We are the Twentse Thestrals, the Dutch champions of quadball! Quadball is a fast-paced, mixed gender sport that combines elements of rugby, dodgeball and handball. Due to the chaotic nature of our sport – there are five balls in the game – the main focus is on tactics. Our open community welcomes players from all walks of life, all athletic abilities, and all gender identities. Come by to see what quadball is all about!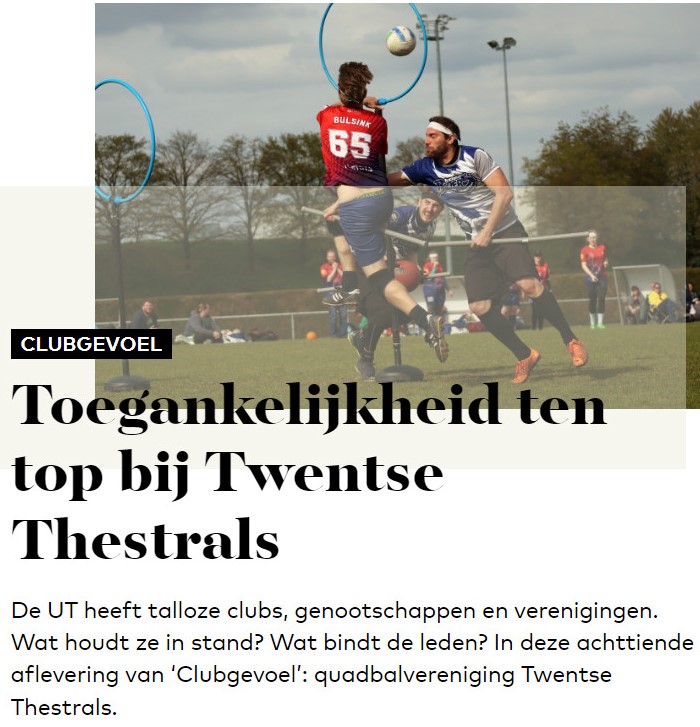 Get to know our team and the sport in this profile by university newspaper U-Today!
Interested in quadball?
Our training times during the 2022/2023 season are: Tuesday & Thursday, 19:00h-21:00h
Location:
We organize several open trainings each year, to which everyone is welcome. All the game elements will be explained, so after the practice you will be a real quadball player! Follow us on Instagram or Facebook to stay up to date on the next opportunities.
It is also possible to join a regular training – just make sure to send us an email or message on either social media platform, so we know you are coming.
---
Do you want a little teaser? Watch our introduction video!
Workshops
Have you always wanted to play quadball with your association, friends, or colleagues? We can arrange that! We can organize a complete workshop, tailored to your wishes. We will explain all the game elements through fun games and in the end, you will split up into two teams for a real match. We can give our workshop in any well-lit grass field that is large enough.